Sept. 26, 2021, Bristol, RI. — Team Holiday Sideshow bested 23 other teams from around the country in this weekend's U.S. Team Racing Championship, hosted by the Bristol Yacht Club. All in all, the 24 teams sailed a combined total of 204 races, starting with a qualifying round in a Swiss League format and culminating in a knock-out series that placed top teams against each other in an exciting finale on Sunday. The regatta was sailed in a fleet of Zim 420Es (v.2) provided by Zim Sailing, Z420s from Roger Williams University, and club 420s from Bristol Yacht Club, with sails supplied by New Bedford Community Boating.
"We had champagne conditions and the competition was terrific," says Bruce Cook, Vice Chair of regatta's umpire team. "The finals went down to the last race, and went down to the last half of a leg. You couldn't ask for better."
Team Holiday Sideshow included Colin Merrick, David Thompson, Rachel Holick, Christopher Klevan, Greiner Hobbs, and Miranda Bakos. "We tried to keep it simple, just kept it going fast," says Merrick, now a six-time Hinman Champion. "We were a little slower upwind, so getting off the line clean was big for us," added Hobbs. "We just kept pushing the race forward." After this weekend, Hobbs, Bakos, and Klevan have now won the trophy three times.
Team Bulldawgs, who hail from St. Thomas YC, Coral Reef YC, and Hyannis YC finished the three-day regatta in second overall, closely followed by Team Jet Lag, from St. Francis YC, in third.
Who would take the top spot came down to the final leg on the final race, but the entire weekend was truly a test of skill and adaptability. "The winner was a master of all kinds of conditions," says Shannon Bush, PRO for the U.S. Team Racing Championship. "It was nuking on the first day, shifty and light and gnarly on the second day, and champagne today."
"Some of the sailing we were watching at mark 3 and 4, and the boat handling skills were unreal," continued Bush. "These guys and gals make it a pleasure to watch."
Beyond the racing, competitors and organizers alike repeatedly remarked on the camaraderie both on and off the water. "This regatta is the best, you get to see all your old friends you went to school with," says Hobbs, who along with many of his teammates attended Hobart and William Smith Colleges.
Bristol Yacht Club and the town of Bristol rolled out the red carpet for the competitors. Racing took place directly off the docks of downtown Bristol, while social events were hosted at the Club, rebuilt last year after a 2018 fire. "Bristol generally has some pretty great conditions and a lot of history of sailing," says Kate Bjerregaard, who represented Bristol YC on Team Natty Nice. "It's a fun place to sail."
Nick Cromwell, the regatta co-chairman, was awarded the Gay Lynn Award for Team Racing at Saturday evening's dinner. The award is given at the discretion of the US Sailing Team Racing Committee in recognition of extraordinary contribution to the sport of Team Racing. It was last presented in 2017 to John Pratt.
The U.S. Team Racing Championship, first held in 1981, remains one of the most anticipated annual sailing championships of the season. This year's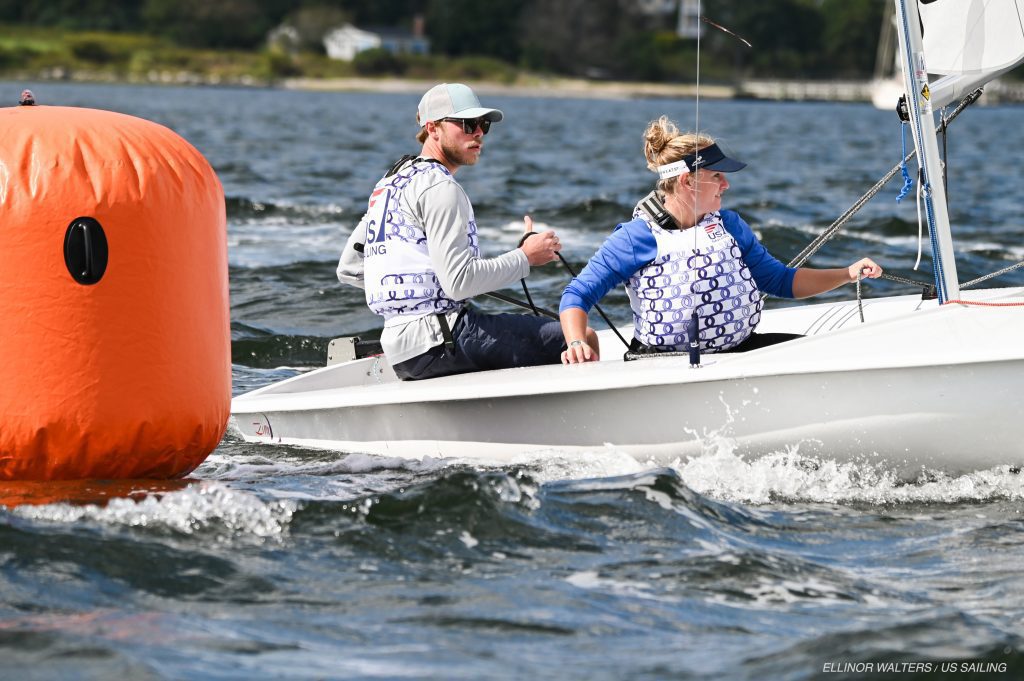 Championship features an impressive list of accomplished teams and experienced team racers, many of whom have competed in or won this Championship in years past. From top-notch one-design sailors in fleet racing circles to current and former top-flight college sailors and coaches, this US Sailing National Championship attracts a wide range of sailors, both men, and women. The 2021 U.S. Team Racing Championship is sponsored by Regatta Craft Mixers and Lon Gundie and local sponsor Tajima Direct.
The regatta was initiated by Sailing World magazine, and after years of growth and popularity, the event was adopted by US Sailing and became known as the U.S. Team Racing Championship for the George R. Hinman Trophy. The trophy was donated in recognition of George R. Hinman's many years of service and contributions to sailing.
For full results, visit: https://www.ussailing.org/competition/championships/2021-u-s-team-racing-championship/
About US Sailing
The United States Sailing Association (US Sailing), the national governing body for sailing, provides leadership, integrity, and advancement for the sport in the United States. Founded in 1897 and headquartered in Bristol, Rhode Island, US Sailing is a 501(c) (3) non-profit organization. US Sailing offers training and education programs for instructors and race officials, supports a wide range of sailing organizations and communities, issues offshore rating certificates, and provides administration and oversight of competitive sailing across the country, including National Championships and the US Sailing Team. For more information, please visit www.ussailing.org
About Regatta Craft Mixers
Since 2006, Regatta has been making classic Bermuda Stone Ginger Beer, a premier mixer that has become widely recognized as the industry standard. Now Regatta offers a full line of premium mixers and sodas, all finely crafted in small batches including Regatta Dry Citrus Sparkling Tonic, Regatta Royal Oak Ginger Ale, Regatta Pacific Sea Salt Club Soda and Regatta Light Ginger Beer. The company uses the highest quality ingredients and creates distinctive flavors that appeal to the most discerning customers. For news and updates follow Regatta Craft Mixers on Facebook and Instagram (@RegattaCraftMixers) or visit www.regattacraftmixers.com
About Lon Gundie 
Lon Gundie is a boutique apparel brand that makes super cool and ultra-comfy base layers designed to #outperformboring. Lon Gundie has been outfitting the sailing community in our one-of-a-kind custom apparel since 2015. Lon Gundie custom team rash guards and pinnies can be found on the podium, on the course and at the Yacht Club.  Lon Gundie is proudly designed and manufactured in the USA using eco-friendlier recycled fabrics.