Featured
CORPUS CHRISTI, Texas (July 15, 2018) – The 14 sailors who comprise the US Sailing Team at the Youth Sailing World Championships begin their quest for gold medals tomorrow. The 48th annual Youth Sailing World Championships is being hosted by the Corpus Christi Yacht Club with racing slated for Corpus Christi Bay. The regatta features…
US Sailing has announced roster names and details for the 2018 U.S. Youth Olympic Sailing Team to compete at the Youth Olympic Games Buenos Aires 2018 on October 6-18, 2018.
Following three days of exciting racing on Galveston Bay, Malcolm Lamphere (Lake Forest, Ill.) became the 2018 U.S. Singlehanded Men's Champion and Hanne Weaver (Gig Harbor, Wash.) was named the 2018 U.S. Singlehanded Women's Champion.
US Sailing shared American Magic's post.
2 days ago
US Sailing Facebook Page will be sharing this Live Stream! Tune in at 6:30pm ET to see US Sailing Team members Caleb Oliver Paine and Bora Gulari talk about American Magic's run for The Cup! #TeamUSA #GoUSA #🇺🇸️⛵LIVE TODAY: American Magic presentation at Optimist Class U.S. National championship (6:30PM EST, 5:30PM Local)

Join over 300 young Optimist Class USODA Nationals sailors, their siblings, parents and coaches to celebrate sailing in Pensacola and learn about American Magic, the U.S. Challenger for the 36th America's Cup. It's happening SATURDAY in Downtown Pensacola at the Gala Opening of the 2018 Optimist Nationals at the historic Saenger Theater. The American Magic presentation, featuring team CEO Hap Fauth, helmsman Bora Gulari and grinder Caleb Paine will be streamed LIVE and worldwide via American Magic's Facebook page.

New York Yacht Club - Main Page - US Optimist National Team ... See MoreSee Less
Load more
In the Girls' RS:X Class, Dominique Stater is placed 13th:
In the Girls' Laser Radial, Charlotte Rose is second with a 4-1:
More results: USA's JC Hermus/Walter Henry lead Boys' 420:
The Cowles sisters picked up where they left off last year, winning R1
Twitter feed video.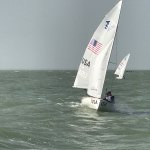 The Boys' RS:X results are posted and Geronimo Nores leads with all first-place finishes:
Load More...
We'll see you on the water
Join US Sailing at one of our internationally acclaimed events around the country. Search our events database by date or location or simply click the links below. We can't wait to welcome you aboard.