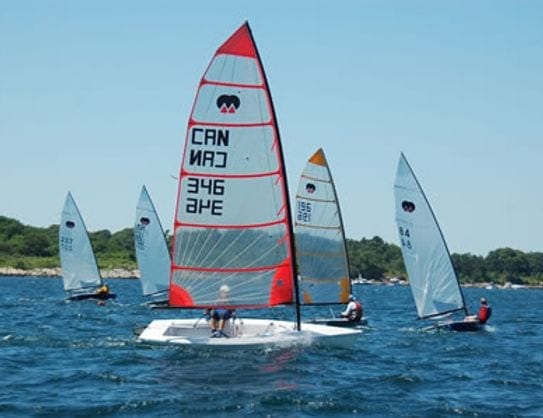 About Megabyte
Specifications:
Length: 14′ 3″ (4.34 m)
Beam: 5′ 2″ (1.57 m)
Mainsail area: 100 sq.ft. (9.29 m²)
Hull weight: 130 lb. (59 kg)
Sails & Rigging:
Fully battened Mylar sail (MK II rig) or the original and more conventional MK I rig which has the stiffer mast and partially battened sail.
Carbon fiber 2-piece mast – flexible for controlling the power in the sail.
Vang, Outhaul and Cunningham control lines are well led to the cockpit sides.
Boats Produced: Approximately 385
---
Class boat builder(s):
Zim Sailing
33 Broadcommon Road
Unit 1
Bristol RI, 02809
Call us: (401) 237-6117
---
Approximately how many boats are in the USA/North America? 360
---
Where is your One-Design class typically sailed in the USA? List regions of the country:
New England
Mid Atlantic
Mid West
Northwest Coast
---
Does this class have a spinnaker or gennaker? No

---
---
Ideal combined weight of range of crew:  130 lbs. to 220
---
Portsmouth Yardstick Rating:  90.80
Boat Designed in The Megabyte was designed by Bruce Farr and Ian Bruce in 2000
---
---
Beam: Beam: 5′ 2″ (1.57 m)
---
Weight of rigged boat without sails: Hull weight: 130 lb. (59 kg)
---
Draft: raft: 2′-6″
---
Mast Height: 23′